Does New York State or City restrict the proper tethering of dogs?
New York State allows owners to choose how they may humanely restrain their dogs.
New York City's new ordinance 10/2011 places numerous restrictions and prohibitions on collars, humane restraint and the leashing of pets and other animals. We urge dog and animal lovers everywhere to call for the repeal of the ordinance, set to take effect on May 1, in its entirety.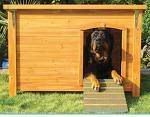 Are there requirements for dogs kenneled outdoors in New York?
Yes. Recently New York enacted a law requiring that dogs outdoors be provided proper shelter. Agriculture and Markets Article 26, Section 353 b reads:

Any person who owns or has custody or control of a dog that is left outdoors shall provide it with shelter appropriate to its breed, physical condition and the climate.
This section of NYS law defines appropriate shelter and specifies penalties for owners and caretakers who fail to provide necessary housing.
Check with your municipal clerk for any local law restricting tethering.
Note:
Proper tethering
is a responsible, humane form of restraint which safeguards both dog and community. Caring owners must exercise caution and adequate supervision of their dogs, regardless of the restraint method they choose to employ.